Newly Renovated Canadian Heritage Orchard at VanDusen Botanical Garden
2021-01-31
Location: VanDusen Botanical Garden
Take a trip back in time and visit VanDusen's newly renovated Canadian Heritage Orchard, which represents an authentic apple orchard you would have seen in the late 1800s and early 1900s in southern British Columbia.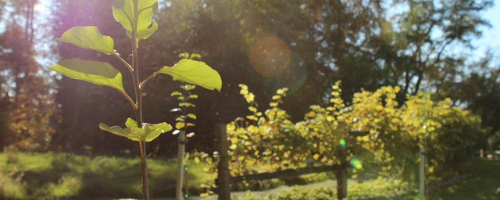 A shift from the original theme of fruit trees introduced in Canada or developed by Canadian breeders, many of which were from Eastern Canada and poorly adapted to our rainy West Coast climate, this new collection showcases apple varieties grown by BC's early settlers, who often brought their favourite fruit trees from home, including England, Europe and the United States.
The apples featured in the updated orchard were carefully selected and donated by John and Josephine Riley from their legendary heritage apple collection on Bowen Island. Having recently sold the orchard after nearly three decades, the Rileys have ensured their life's work will live on, both in VanDusen's newly updated orchard and by Pacific Northwest Propagators, a wholesale specialty nursery in Chilliwack who has grafted scions from the Riley's orchard to help preserve these trees in the nursery trade and for future generations.
VanDusen Botanical Garden's collection will be "a first class heritage orchard, typical of what would have been grown by European settlers before World War I." – John Riley
New apple tree (Malus domestica) cultivars planted at VanDusen Botanical Garden
'Baldwin', 'Bietigheimer', 'Blenheim Orange',  'Cox's Orange Pippin', 'Duchess of Oldenburg',  'Esopus Spitzenburg', 'Gloria Mundi', 'Gravenstein', 'Grimes Golden', 'Keswick Codlin', 'Lemon Pippin', 'Ribston Pippin',  'Sweet Bough', 'Yellow Transparent'.