Listening to the Bees
2021-04-29 6:30pm - 7:30pm
Presented by: Mark L. Winston and Renée Sarojini Saklikar
In this Speaker Series presentation, Mark L. Winston and Renée Sarojini Saklikar will welcome us into their multi-dimensional understanding of bees through conversation, readings and imagery.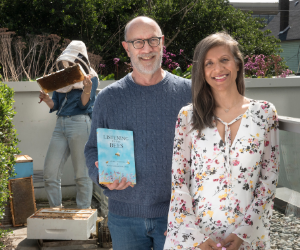 Listening to the Bees is a collaborative exploration by two writers focusing their shared interests in bees. Through their distinct but complementary lenses of science and poetry, Mark L. Winston and Renée Sarojini Saklikar implore readers to listen to the bees, as we depend on them for our own survival and prosperity. The result is a marvelous journey into a deeper understanding of science, culture, nature, and language.
Speaker Bios:
Mark L. Winston is the recipient of the 2015 Governor General's Literary Award for Nonfiction for his book Bee Time: Lessons From the Hive, and an Independent Publishers 2019 Gold Medal "IPPY" Award for his book Listening to the Bees, co-authored with Renee Sarojini Saklikar. One of the world's leading experts on bees and pollination, he currently is a Professor and Senior Fellow in Simon Fraser University's Centre for Dialogue, a Professor of Biological Sciences, and the SFU Library's inaugural Nonfiction Writer in Residence (2020-2021).
Renée Sarojini Saklikar's ground-breaking poetry book about the bombing of Air India Flight 182, children of air india, won the Canadian Authors Association Poetry Prize and was shortlisted for the Dorothy Livesay Prize. Her book, Listening to the Bees, co-authored with Dr. Mark Winston, won the 2019 Gold Medal Independent Publishers Book Award, Environment/Ecology.
Trained as a lawyer, Saklikar is an instructor for SFU and VCC. She was the first Poet Laureate for the City of Surrey (2015-2018), and was the 2017 UBC Okanagan Writer in Residence.
Fee: $10
VBGA Members receive a 10% discount