Women's Impact on Plant Culture in the Americas:
2021-05-27 6:30pm - 7:30pm
My Personal Journey Through Story and Art
Presented by: Catherine Shapiro
Catherine will examine women's ancient roles as food gatherers, domesticators of food plants and creators of the first gardens. As an avid reader, researcher, artist and gardener, Catherine has amassed a wealth of knowledge and comes at her subject from a wide range of perspectives and personal experience.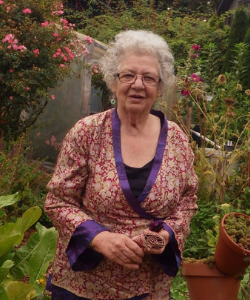 Speaker Bio: In the 1980's Catherine began to create multimedia artistic works that expressed her increasing knowledge of plants. Her varied and growing interests led her to embark upon on a lifelong research project on the role of women in the development of horticulture. Catherine has dedicated herself to cultivating and foraging plant materials to create environmental artworks. In the past few years, she has tended and processed indigo in her own garden and at the MOP (Means of Production) Garden in East Vancouver, where she learned to extract pigment to make paint and dye. Working with indigo has led her to experiment with other pigments and use them on a new series of cast paper sculptures.
Cost: $10