Preschool Storytime: Goodbye Summer, Hello Autumn
2021-09-22 10.00am - 10.45am
Location: VanDusen Botanical Garden
In-person Preschool Storytime Returns to the Yosef Wosk Library & Resource Centre!
Join us on Wednesday, September 22, 2021 at 10:00 am – 10:45 am for Goodbye Summer, Hello Autumn!
In this month's free program we will sing songs, listen to stories and do an art project relating to our theme. This month's event will be held outdoors in a covered area just outside the library. Please wear clothes appropriate for the weather.
Ages: 3-5 year olds. Siblings are welcome if quiet and engaged.
Registration is limited. Please contact Marina Princz at library@vandusen.org with how many children, their ages, and how many adults will be attending in your group.
Looking forward to welcoming you back!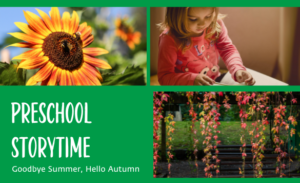 We require all VBGA in-person education program participants to be fully vaccinated. Children under 12 years old are exempt from this policy. You may be asked to provide the BC Vaccine Card for entrance into the program. Participants 12 years old and older must wear masks when entering the Visitor Centre.