Adopt-a-Tree
Commemorate the birth, marriage, or memory of your loved one.
VanDusen Botanical Garden has many beautiful trees available for adoption. The VBGA's Adopt-a-Tree program provides an opportunity for you to form a personal relationship with a tree that has a special meaning for you.
Adopting a tree at VanDusen creates a special bond to deepen your connection to nature
For each adoption, a plaque will be placed on your chosen tree with the name of your loved one and a short message.
Start or renew your adoption by making a charitable donation today. Click here and select the option for 'Adopt A Tree Payment'.
Download our Adopt-a-Tree viewbook.
Download the Garden map identifying the locations of available trees here.
Experience with Adopt-a-Tree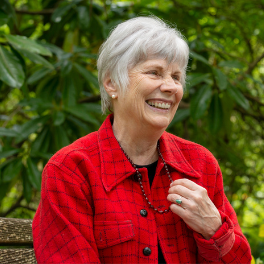 "This," says Jan, opening her arms to the Garden, "is a place of vitality, growth, transformation. The trees are a living memorial — a way for us to have a living relationship with people who are no longer physically present."
Read about Jan Miko's experience adopting trees at VanDusen Botanical Garden, and learn about how you can participate in the Adopt-a-Tree program. Read more!
fundraising@vandusen.org
5251 Oak St, Vancouver, BC V6M 4H1
VBGA is incorporated under the BC Societies Act and is a registered charity.
Charitable No. 11928 1301 RR0001.