VanDusen Nature Camps
VanDusen's camps are immensely popular and often sell out quickly. Our carefully crafted blend of science, exploration, games and crafts gives children the opportunity to learn and play throughout the beauty of VanDusen Botanical Garden, while fostering positive stewardship of the environment. Days are spent almost entirely outdoors with access to indoor and covered spaces available in extreme weather.
Our outdoor camps create a unique learning experience tailored for kids ages 5-10. Please note that all campers must be at least 5 years old and have completed or be currently enrolled in kindergarten.
Weekend Nature Club
Weekend Nature Club Fees:
| | |
| --- | --- |
| VBGA Members | $36.00 per day |
| Non-Members | $40 per day |
+

-

June 5th: June Bugs! SOLD OUT

Date: Saturday, June 5th
Time: 10:00am – 1:30pm

6 legs, 8 legs, 100 – oh my! Investigate some of the fascinating critters that crawl, skim, and fly through VanDusen Botanical Garden. Learn more about how bugs can be helpful and harmful, and take home a critter craft.

SOLD OUT

+

-

June 19th: Pollinator Power SOLD OUT

Date: Saturday, June 19th
Time: 10:00am – 1:30pm

Did you know that most bees are pollinators, but not all pollinators are bees? Learn more about the variety of animals that keep our flowers blooming and food on our tables. Construct a pollinator-friendly craft and take home a seed bomb for some lively blooms.

SOLD OUT
Pro-D Camps
Pro-D Camp Fees:
| | |
| --- | --- |
| VBGA Members | $58.50 per day |
| Non-Members | $65 per day |
+

-

June 30th: Elaborate Earth SOLD OUT

Date: Wednesday, June 30th
Time: 9:15am – 4:00pm

Get the dirt on what makes our ecosystems unique – from sprawling landscapes to the chemistry of the ground. Create your own water filter, become a stratigraphy storyteller, and enjoy a tasty treat of edible soil layers!

SOLD OUT
2021 Summer Camps
For mobile view click here.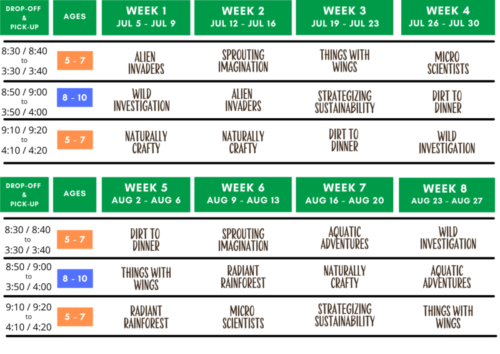 Please note that 2021 Summer Camps are currently SOLD OUT but we encourage you to browse theme descriptions and register for waitlists here.
| | | |
| --- | --- | --- |
| Camp duration | Member Fee | Regular Fee |
| 4 Day Camp | $244.80 | $272 |
| 5 Day Camp | $294.30 | $327 |
Covid-19 Adaptations
Our Camp Programs have been running safely since June 2020 with adapted protocols and structure to ensure we follow guidelines and recommendations from the BCCDC, Vancouver Coastal Health, WorkSafeBC, and the BC Ministry of Health. Our camps are informed by an extensive COVID-19 Safety Plan that is updated seasonally and approved by the Director of the Vancouver Botanical Gardens Association, the Park Board Garden Director and Business Team Lead, Park Board senior management, as well as the City of Vancouver Occupational Health and Safety team.
+

-

Adaptations Include

Smaller group sizes by splitting themes into two cohorts of 14 campers.

An increased emphasis on hand hygiene and physical distancing will take place along with a reduction of shared materials.
Campers will be using outdoor porta-potties and handwashing stations to decrease use of shared indoor washrooms.
Increased cleaning and sanitation in camp spaces and of camp materials in accordance with the VGBA's COVID-19 Health, Safety and Sanitation Policy.
Camps take place almost entirely outdoors as it is the safest place to be; this means campers will be asked to carry backpacks for up to 10 minutes at a time.
Camp planning ensures that games, crafts, and activities can all be done outdoors and allow for physical distancing.
Masks are mandatory for all staff and volunteers working directly with youth.
Youth participants are not required to wear masks in the Garden but are encouraged to wear masks in public indoor settings such as the Visitor Centre.
We are unable to provide 1 on 1 support for participants at this time due to the new program format.

Please consider these changes when deciding if this program is right for your child. 
Cancellation Policy
If you need to cancel your program registration for any reason and provide at least 30 days' notice in writing prior to the start of the camp in question, we will offer an education programming option in lieu of your cancelled camp(s). If we are able to fill the spot(s) with waitlisted participants, you will have the choice of receiving a refund minus a $15 administrative fee or registration in another education program. Program cancellation due to Public Health Restrictions will result in education program credit equivalent to the value lost.
No refunds will be issued in instances of expulsion due to disruptive behaviour, cancellations with less than 30 days' notice, or absence from a Camp (including for illness or injury).
Here's what parents have to say about our camps!
"Excellent protocols, best of  any camp of school we attended."
"This summer it was wonderful for him to have time to socialize  and play with other kids – he has some good social distance games he can now share with friends."
"This camp has ignited a spark – that it's cool to be interested in nature, and all that's in it."
"My child gained an appreciation for plants, nature, and relationships humans have with nature."
"The leaders were enthusiastic, professional and caring, and got to know my child really quickly."
---
Contact Us
For inquiries about Weekend Nature Club, Pro-D Camps, camp refunds, cancellations, or waitlists, contact Natasha Friedmann (Camp Coordinator) at nfriedmann@vandusen.org or call 604-257-8443.
For other inquiries or for more information about VBGA youth programs, contact Hailey Moran (Youth Programs Manager) at hmoran@vandusen.org or call 778-939-3739.